As a Lecturer at Harvard (2011-2015), Dr. Joanna Lipper taught Using Film for Social Change in the Department of African and African-American Studies.  She is currently a Research Associate at the African Studies Centre at University of Oxford and at the Centre for Creative Industries, Media and Screen Studies at SOAS, University of London; and a Visiting Academic and Senior Member of St. Antony's College, University of Oxford. A transcript of a recent Keynote Lecture by Dr. Lipper was published in The Lagos Review.  Her transnational creative practice as a filmmaker was profiled in The Nigerian Tribune. Dr. Lipper holds a B.A from Harvard in Literature and Film; an MSc from UCL in Psychoanalytic Developmental Psychology; and a PhD in Women's Studies from University of York. 
USING FILM FOR SOCIAL CHANGE – Course Description - LECTURER: Dr. Joanna Lipper
Democratized access to digital media powerfully impacts strategies aiming to heighten global awareness of local issues with the capacity to inspire empathy, political engagement, social activism, and charitable giving. With a focus on race, gender, and identity, this course explores the portrayal of the human condition across cultures in feature films, documentaries, and photography. Students had the opportunity to create their own multimedia projects.  
While enrolled in the course, Harvard student Gloria Hong made a film that won the Grand Jury Prize at the Girls Impact the World Film Festival.  In an interview with the Harvard Gazette, Lawrence D. Bobo, chairman of the Department of African and African American Studies called AAAS 109 "a very special course taught by a remarkably talented documentarian in Joanna Lipper.  As a department, we could not be prouder of the job she is doing.  The incredible critical success of Gloria Hong's film speaks not just to her talent, but to the special resource this course is for Harvard students."
harvard STUDENT FILMS SUPERVISED BY Dr. Joanna Lipper:
Press - using Film For social change - harvard COURsE - LECTURER: Dr. Joanna Lipper
Harvard Gazette - Undergrad's film made while enrolled in Using Film For Social Change wins Grand Jury Prize at Girls Impact the World Film Festival

The Harvard Crimson - Interrogating the Structure (excerpt)
USA TODAY - Going Beyond Class, Students Use Film For Social Change 
Here's what students have to say:
"Definitely life-changing...  The skills we learned are invaluable."
"The opportunities presented in the class are many... You leave the class with a new understanding of many global issues and a greater appreciation for the work of journalists and documentary filmmakers.  This course has led me to reexamine my interests in filmmaking and reconsider how I might pursue them moving forward. I hope now to apply to law school with the overarching end of being a documentary filmmaker, in part because the documentarians presented in the course content gave me a better general understanding of what good might be done with a law degree and how it might help pressure for social change."
"I loved this class! I consider it the best elective I've taken yet at Harvard..."
"Thank you for pushing me outside my comfort zone...  After an enlightening summer filmmaking in Ghana, some of the work we produced was shown at the Clinton Global Initiative Conference in NYC...  As of last week I have been accepted into the White House internship program for the Spring, where I will be working with the head videographer in the Office of Digital Strategy."
""I'm showing my film this weekend at the APHA (American Public Health Association) film festival in Chicago! I'm looking forward to seeing more films and meeting the filmmakers... a good break from med school.  I even get to moderate a few of the sessions! Thanks for all your help making this happen."
"Through my internship at Viacom, I recently competed in a marketing contest among the interns to promote MTV's Video Music Awards. I was a winner two out of the three weeks, largely due to the videos I created. My success in the contest was definitely due to what I learned in your class."
"Your class last year remains a valuable experience that keeps on giving. My film project on refugees was featured prominently in my law school application and also came up in my scholarship interviews - particularly since one interviewer was the first ever, Haitian-American, federal judge.  Last week, I started volunteering with a non-profit that works with immigrants, and they're interested in having me work on a film project to increase their presence. Thank you for your support and for introducing me to a field that I otherwise would not have explored!"
"...the most influential course that I took at Harvard."
Selected Press RE: Lectures AND PRESENTATIONS
New Haven Register
Portraits of Children
Yale Bulletin
Noted author and filmmaker to visit the campus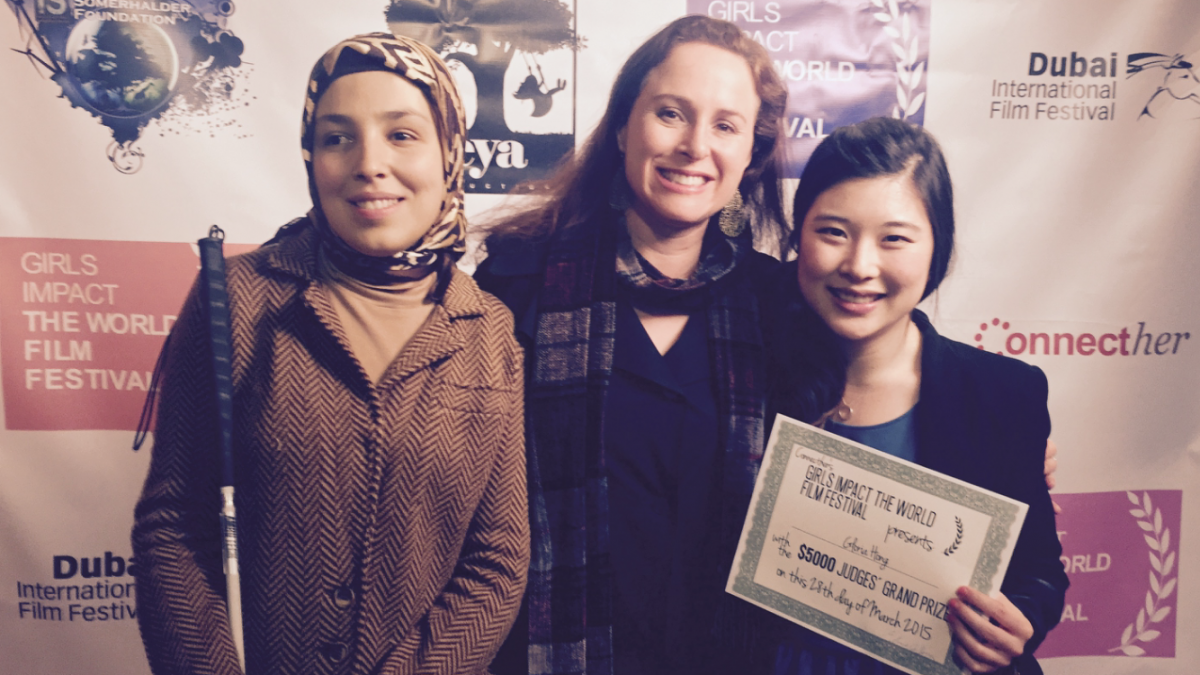 Sara Minkara, Joanna Lipper and Gloria Hong, Winner - Grand Jury Prize, Girls Impact the World Film Festival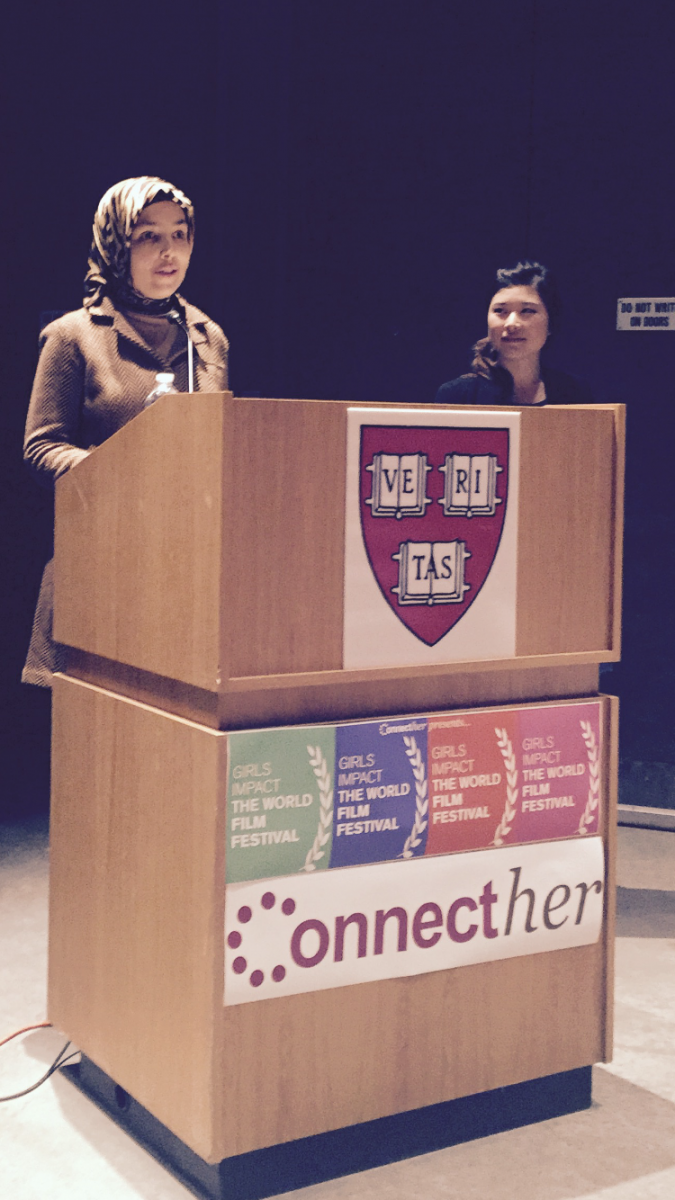 Activist Sara Minkara, Gloria Hong, student filmmaker at Harvard